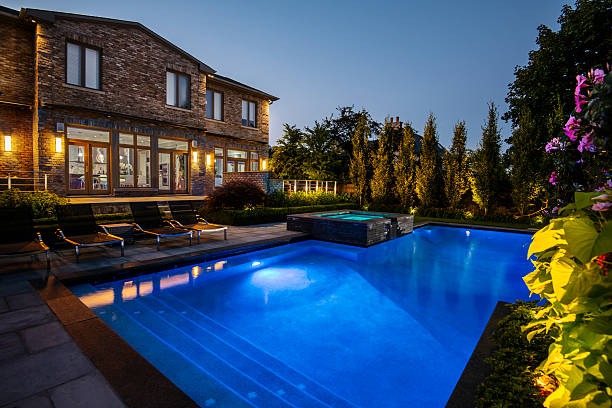 (Originally posted on www.cast-lighting.com)
How to Light Your Pool for the Ultimate Summer Experience
The landscape lighting industry is thriving due to homeowners' desire to create comfortable, memorable outdoor experiences. That desire quadruples when the weather improves, and homeowners crave the ultimate summertime experience in their backyard at night. This can mean different things to different people, but one typically clear focus in summer is the pool. There's nothing quite like a leisurely late-night swim in your very own pool.
But, without outdoor lighting, that perfect dip can be a little more tricky, less enjoyable, and a little more dangerous (and not in a thrilling James Bond kind of way.) Part of the fun of diving into your pool at night is to be able to see it and enjoy its gorgeous features. But, it's equally important to see the features, which in darkness could become obstacles or hazards. To make things simple for you as a pool owner, we've compiled a list of seven pool lighting ideas to consider to enhance your pool experience in the summer.
1. Moonlighting
Let's start with one of our favorite advanced landscape lighting techniques: Moonlighting. Doesn't it sound dreamy? Night swimming in glistening water, with that subtle and soft moonlight glow effect?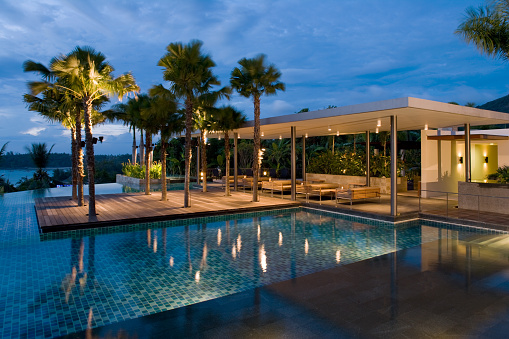 People often create a moonlighting effect using tree-mounted lighting like our CAST Classic Tree Lights. Alternatively, you can install lights around the elevated areas near the pool or the soffits of your home or pool house.
The key to a great moonlight effect is ensuring the lights are not too bright or harsh. Proper lighting placement will create even and consistent lighting.
Moonlighting adds life to your pool and deck. It can create the perfect atmosphere for a romantic or cozy summer evening with friends and family.
2. Directional Lights for Structures & Greenery
The swimming pool isn't the only focus that'll create a great summertime experience, and it certainly shouldn't be the homeowner's only investment. Make sure to also show off gorgeous plant life, flower beds, and treescapes with traditional above-ground directional lights for expert uplighting.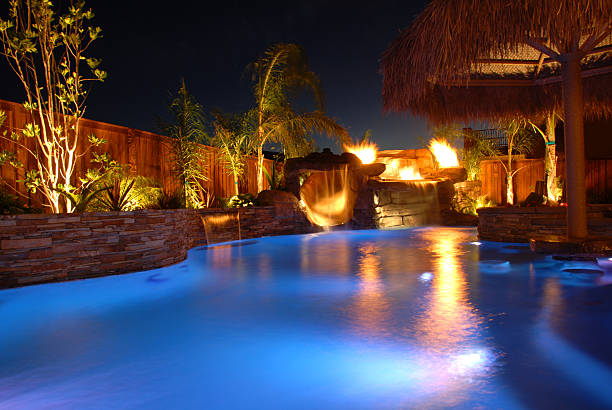 Structures such as a cabana, pergola, or outdoor kitchen area are equally as important. To really enhance that relaxing resort-like experience, show off these amazing assets and architectural features by illuminating them at night with uplights and soft wash lights. It'll also make the space far more useful in the evenings.
3. Deck Lighting
If you have kids or like hosting regular get-togethers over the summer, there's a strong likelihood that your pool sees a lot of activity and foot traffic. One way to avoid damaging a light fixture—or worse, having an injured guest—is through deck lighting.
Besides the practical illumination, deck lighting also creates an aesthetic appeal to your pool area.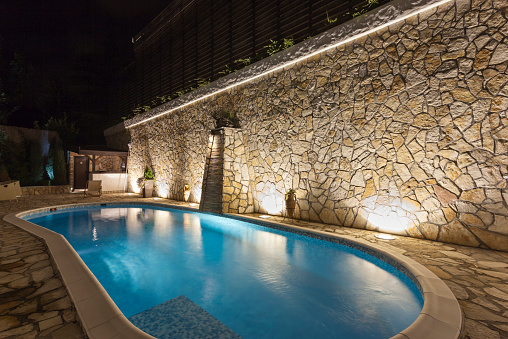 There are various options to light up your deck, like post lighting, where you install pool lights on top of deck posts and railing posts. You can also use in-ground lights, like our recessed mini narrow spot-up lights, to illuminate your decking.
When selecting lights, you need to choose appropriate light fixtures that can withstand outdoor elements, especially water, considering they will be installed around the pool. Some of the best materials for outdoor pool deck lighting include bronze, brass, and stainless steel.
4. Water Features
Water features deserve their own landscape lighting strategy and design.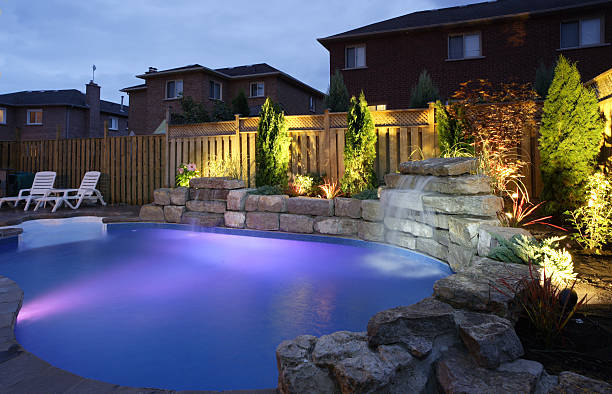 Waterfalls, for instance, are magnificent and serene in their own right, and lighting them at night only adds to their majesty and peace. Consider backlighting from underneath the cascade, showcasing the water's playful dancing and shimmering.
Alternatively, a wash light at the pool's edge or a nearby tree could spill across the waterfall evenly for a calming atmosphere. To add drama and liveliness, position the lights where the waterfall breaks the pool's surface, emphasizing movement and the splashing bubbles.
5. Wall Lights
Remember the cardinal rule: Pool goers—and anyone in an outdoor living space—should see the effect of the light, not the power source. Walls lights are excellent for carrying out this rule.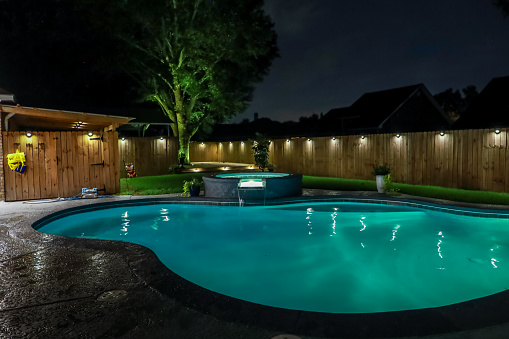 The small and subtle wall lights are designed to be hidden—an afterthought—casting light downward onto a more interesting aspect of the landscape design and the textured hardscape it's attached to.
You can install the wall lights throughout your pool's hardscapes, their textured walls, sitting walls, fire pits and fire pit benches, and more. This way, you will provide safety and convenience for people using the pool at night and highlight architectural features to help create a great ambiance.
Another popular option for pool wall lighting is uplighting. You can use fixtures like our CAST Craftsman Wash Light to illuminate architectural features and plants and trees.
Ultimately, the type of light fixtures and placement of wall lights you choose should match the look and feel you want to achieve. By selecting the right fixtures and considering the size and type of pool, you will create an inviting and beautiful pool space, perfect for outdoor entertaining in the summer.
6. Lighting Zones, Dimmers, & Mood
Pool area lighting should make use of dimmers—specifically around the hot tubs and poolside dining areas. Think pergolas, cabanas, and lux lounge areas with firepits.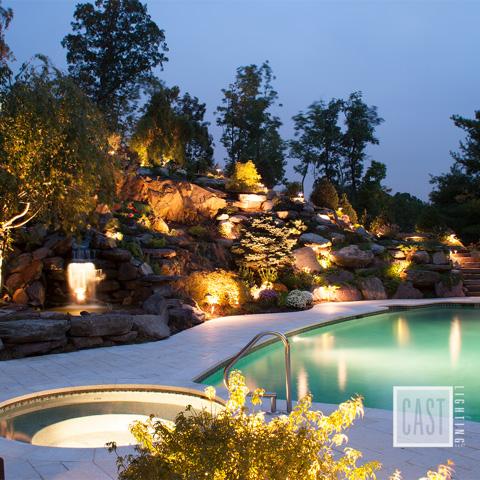 The concept of separate lighting zones should also be applied since it allows you to create certain tasks or moods. This is an especially important element when aiming for a usable outdoor and recreation space around the pool.
Separate lighting zones also give you control of certain outdoor spaces. For example, you can turn lights on or off and dim them as needed while the rest of the landscape, such as the home, remains permanently lit on a timer.
Optional zones, where dimming should be available, include intimate areas like a hot tub which need low and soft light to create a romantic or relaxed mood. Functional areas like an outdoor kitchen need a bright light that makes it easy to see when grilling and entertaining. Dimming control is the key to creating that perfect poolside atmosphere.
7. Glare
A relaxing evening by the pool can be dampened if there's an annoying white light glare coming off the water or anywhere else that can impair your eyesight and result in an accident. As anti-glare experts, we'll be the first to tell you lighting a pool area is all about safety and comfort. This can be achieved with glare-free LED light bulbs.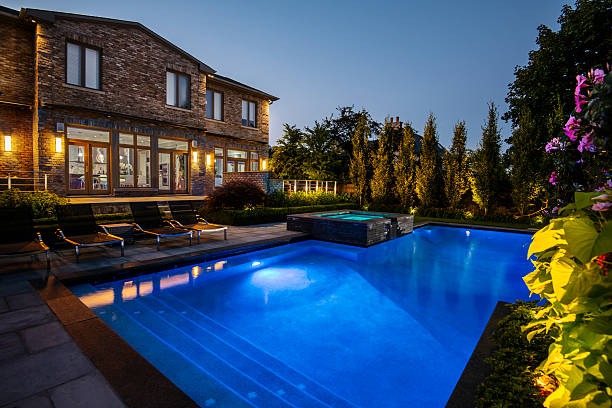 To prevent glare from and around the pool, remember that people should see the effect of a light, not the source itself. This can be executed in a few different ways. One popular solution is to hide the fixtures in the plant life so that only the effect of the light is seen and appreciated.
Another idea is to focus on key landscape design elements using the appropriate lighting techniques. All aspects of your outdoor lighting design should work together to brighten the area properly. For instance, if you have a textured wall around a side of your pool deck, you can use a directional light that crossfades up it. Essentially, the trick is not to accidentally shine light into the water, which creates glare.
We recommend getting a pro installer from CAST to ensure safety and glare prevention in this potentially dangerous recreational area.
Here's to Summer!
Here's to making your pool-going experience a splash hit this summer! And with these seven pool lighting ideas, there's no doubt it will be. Just remember lighting a pool and the surrounding area is about maximizing safety, usability, and comfort.
The right lighting will highlight your prized landscape features and create a luxurious resort-like outdoor experience. With the right ambiance, you'll know it's time to kick your feet up—poolside—and enjoy all the work you put into making this summer in your backyard the best one yet.