(Originally posted on www.cast-lighting.com)
Lighting your outdoor steps can make the difference between an ordinary and extraordinary result. It helps to highlight the natural beauty of your outdoor walking areas. Through lighting, you can create a warm ambiance for everyone to enjoy after dark.
Whether you've got steps to the back, side, or front of your property, the correct outdoor lights have a big impact. This guide covers five great ways to light your outdoor steps so that your home looks modern and stylish.
But before we discuss the best ways to light your outdoor steps, let's touch on why outdoor lighting matters and whether or not it'll work for you.
Why Outdoor Lighting Matters
We often advise that when you're ready to take your property to the next level with landscape lighting, or even just toying with the idea, start small. Dip your toes by selecting one area of importance to light rather than the whole nine yards. This tends to be the backyard to add a level of security by warding off possible intruders.
A very close second is illuminating areas and features that may be difficult or hazardous to navigate without outdoor lighting, such as pathways, stairways, and steps. This adds a needed element of safety, allowing people to navigate a property more easily.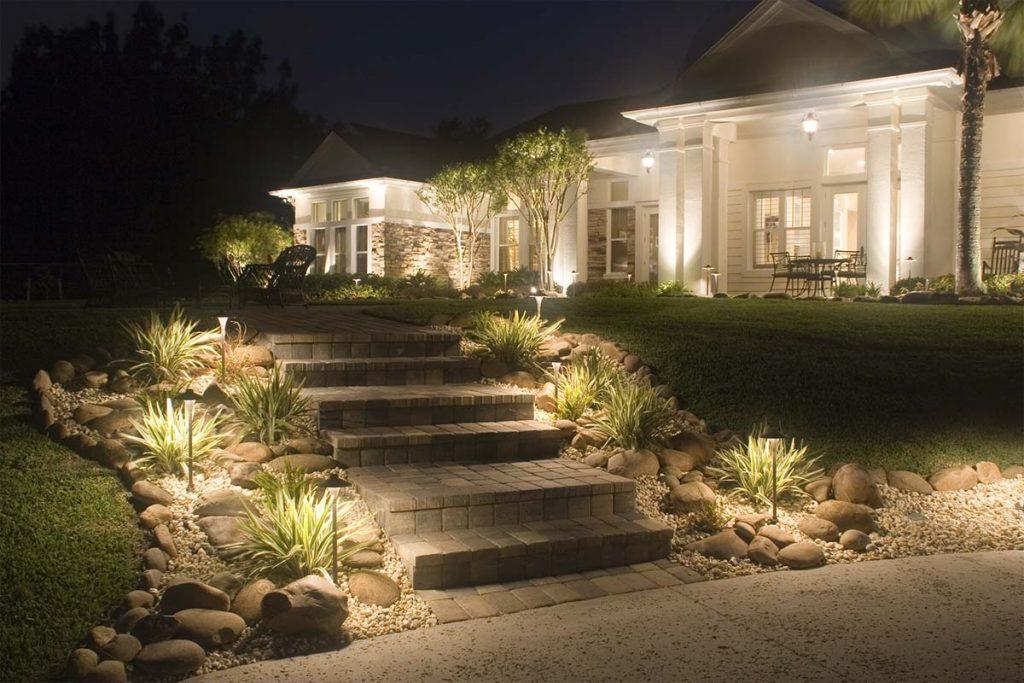 Adding light to your balcony staircase, a patio doorstep, or beautifully hardscaped steps to a pool or entertaining area eliminates the danger and potential injury. Outdoor lighting also adds a beautification factor that can set a mood and truly make a home stand out while adding value to the property.
Does Landscape Lighting Work for Me?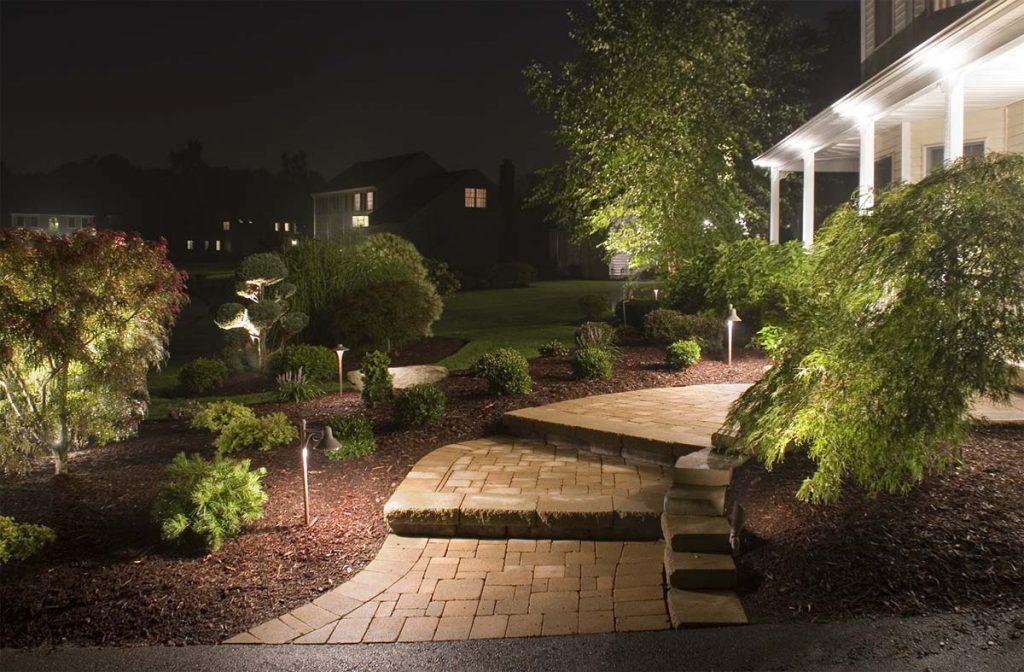 Maybe you like the idea of adding landscape lighting, but you don't think there is room or it can't be retrofitted into your landscape and hardscape design. This shouldn't deter you in the slightest. Landscape lighting is all about creativity and problem-solving.
A lot of the time, landscape lighting is added after the fact to existing structures and landscapes that weren't necessarily designed with outdoor lighting in mind. Post lights, downlights or moonlights, and core lights are all fixtures used for outdoor step lighting that are invaluable to every landscape lighting system.
With all that said, now you are asking, "How do I choose which lighting fixture or technique is best for my application?" The short answer is not the simplest one. It all depends on how you are using the space where the steps or stairs are located. And, what effect are you trying to achieve beyond creating a safer environment?
This is where chatting with a professional comes in handy—especially if you're unsure of which lighting technique you want to use, which effect would look best, and what would be most effective overall.
Here's a quick summary of five outdoor step lighting to consider:
1. Path Lighting
A lot of the time step lighting is accomplished not by adding lights to the actual steps themselves, but alongside them. This is otherwise known as path lighting—after all, an outdoor stairway is a form of a path!
Path lighting is a basic landscape lighting technique that uses path or area lights. Oftentimes, the purpose of path lighting is to light planting beds and paths to provide a seamless transition between lighting scenes for both safety and cohesion.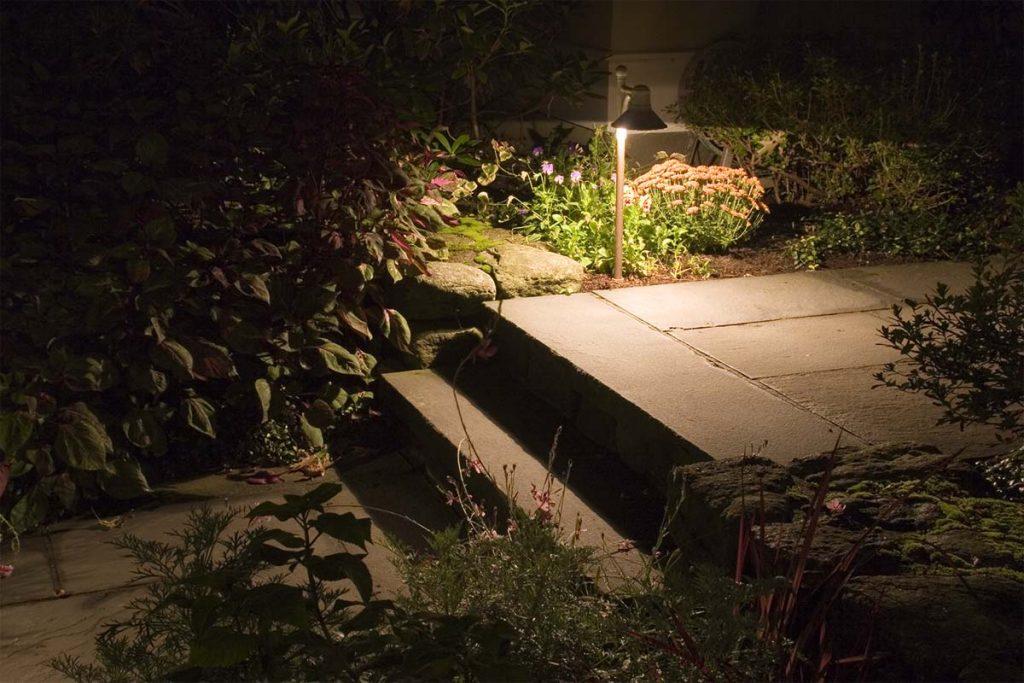 One recommendation is to alternate the placement of path light fixtures from one side of the step to the other to light the path evenly and attractively. The goal is to provide enough illumination to prevent tripping hazards, but also to space fixtures far enough apart to create distinct pools of light so your eye naturally moves through the space. Lighting both sides of each step, on the other hand, is not aesthetically pleasing and feels unnatural when walking along a path.
2. Downlighting, Moonlighting
Another way to light steps or stairs is downlighting. Moonlighting is used to dapple your steps with a soft moon-like lighting effect. You can use moonlighting on your staircase and other outdoor areas.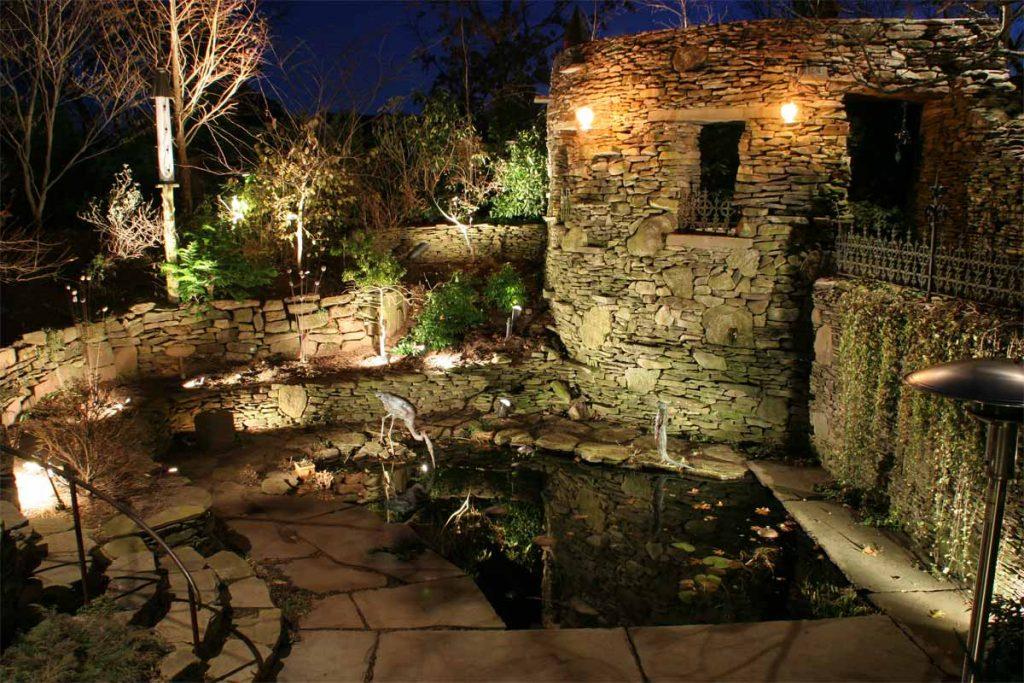 Moonlighting uses tree lights to provide soft natural lighting over large areas. Moonlighting serves as an ideal transition connecting different lighting scenes and eliminating black holes from the project, again, providing safety and cohesion.
To accomplish the downlighting effect, the fixtures emitting a soft wash light must be mounted high up in a tree. Fixtures should be placed at least 25 feet high—at least two lights per tree—and directed down onto the stairway. For your safety, we recommend getting a professional to install your lights.
3. Hardscape Lighting
Hardscape lighting uses low-profile lighting that adds dimension to tight areas, like steps and stairways. Using engineered wall lights, within stones, or a hardscape, those areas can be lit safely and evenly using hardscape lighting.
This is a lovely and sophisticated way to light outdoor steps while highlighting thoughtful hardscape design. Either the walls on both sides of a stairway or the stairs themselves can be lit with hardscape lighting.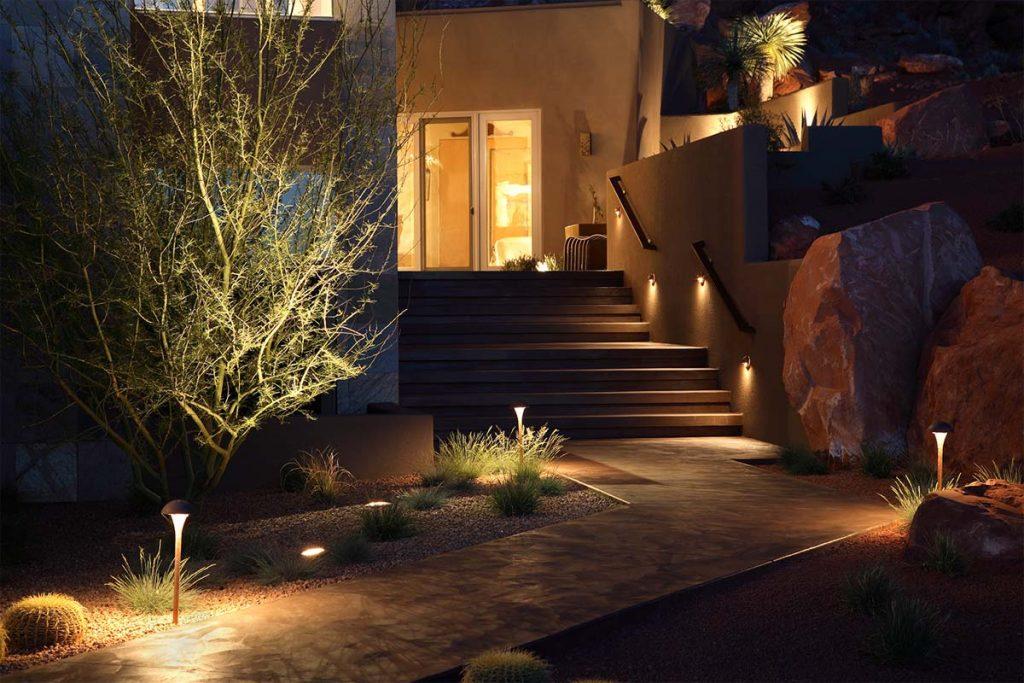 4. Post Rail Lighting
Post rail lights mount onto a post of the railing of a stairway, effectively illuminating the path beneath them. The lights built into a post direct light downward to illuminate where you walk, without shining in your eyes.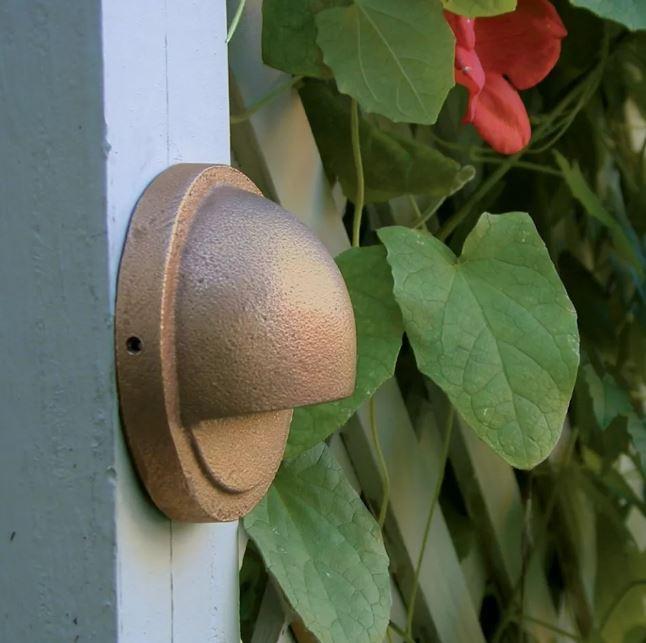 One type of post-rail light fixture that CAST offers is a deck light, like our CAST Classic Savannah Deck Lights, which serves the same purpose and blends nicely with a wooden or metal railing.
Be forewarned, though, installation and electrical wiring of post-rail fixtures can get complicated. If the drilling and fishing aren't done properly, it could result in a permanent and unsightly mistake, such as a hole drilled in the wrong spot. Thus, we recommend working with a professional on this kind of lighting project.
5. Tread Lighting
Tread lighting is a type of stair lighting that uses step lights, strip lights, or slim hardscape lights. These strips of light fit right into the vertical face of each step. They create a washing effect with a gentle, even glow that gives it the illusion that it is floating. This is a dazzling and unique light effect that offers a customized look enjoyed by many.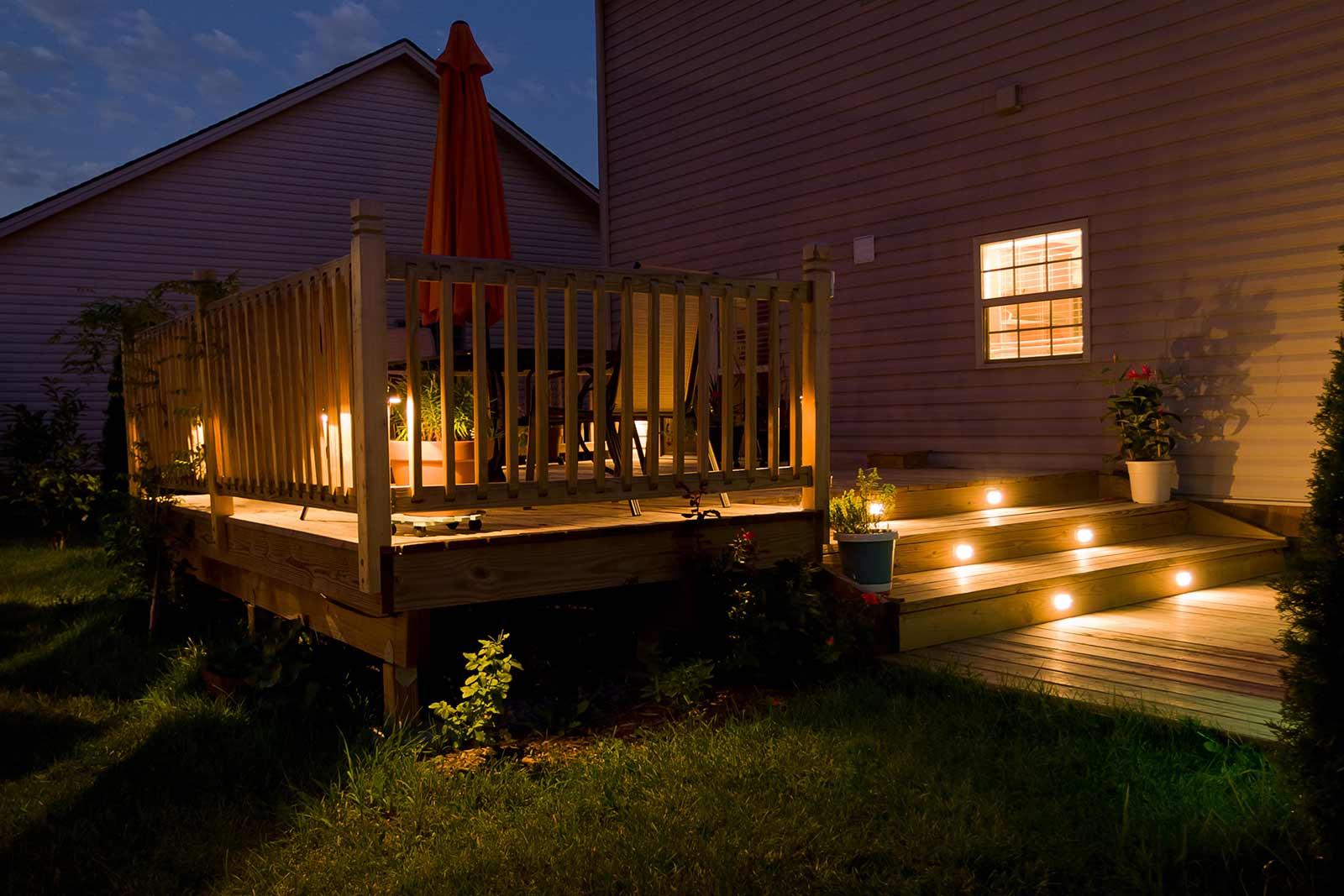 Tread lighting casts light down onto the step directly beneath it. This provides a soft light that illuminates the steps. It's advisable to hire a professional light fitter to install tread lighting as they can be difficult to install.
The #1 Takeaway of All 5 Outdoor Step Lighting Options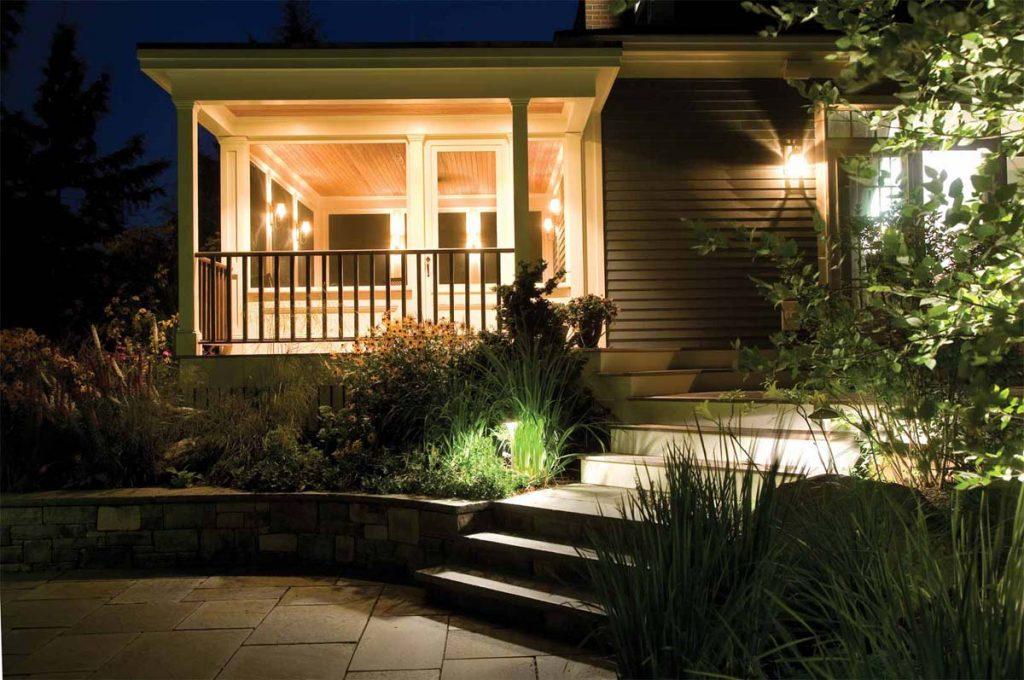 We briefly touched on this top takeaway in our post-rail lighting section—and that's the consideration that all five of the above lighting installs require precision and technical prowess.
Our #1 takeaway here is to make sure to consult a professional landscape lighting designer before trying your hand at this outdoor step lighting. It's critical to select the right fixture and lighting effect to safely and beautifully illuminate your steps. And, to take it one step further, it's just as important to wire and mount the fixtures at the proper height and beam angle—then test and tweak the lights at night—to ensure a successful lighting project.
Good luck, have fun, and enjoy the results!